Chapter 4, Meridaâ
(Version Française plus bas)
-
Meridaâ-Maharoria,
Queen-Daughter, 36 years old.
Meridaâ-Maharoria was born "Queen-Daughter". A title exclusively handed down from mother to daughter. Together with the Wise-Knight, they reign over the tribe and are sharing the executive and judiciary powers. Those two superior being hold the life or death right of any single member of the community.
Meridaâ-Maharoria officially became Queen-Daughter regent upon her mother' death, a few years earlier. She is a young serene and rational woman well-known for the clairvoyance of her judgement and her inflexible incorruptibility. Respected by all, she's rarely showing her emotions or revealing her deep thoughts. The Queen is committed to be, for her people, the pride pillar, powerful and unwavering that is expected from her role. Eventually, her beautiful face rugged.
Meridaâ-Maharoria is a widow and the mother of two little girls. Meridaâ-Olymph-Hloé-Raâ and Meridaâ-Yezaâmire-Paé. The elder, meant to take over the inheritance, is a diligent secret child with a great deal of intelligence but, as her mother, reaching her is not an easy task. Whereas the second, Meridaâ-Yezaâmire-Paé is proud, sensitive and constantly picking quarrel with the other children of the tribe. On her 15th birthday, sacred best double-sabre master of the tribe, she will be proudly requested to join the prestigious Guard and will end marrying Hycliad-Osc-Goöl after drugging and raping him on a full-moon night…
The sovereignty of Meridaâ-Maharoria' symbol is a breast-plate necklace sculpted around a rare gem called "The Heart of Life-Bird" that holds the power and the spirit of the immortal God-Animal Meyiaâ. The talisman previously belonged to the first Queen-Daughter and was since passed on upon each new enthronement within the prestigious female lineage.
-
Meridaâ-Maharoria,
Fille-Reine, 36 ans.
Meridaâ-Maharoria est née Fille-Reine. Un titre qui se transmet exclusivement de mère en fille.
Avec le Chevalier-Sage, ils règnent sur la tribu et se partagent les pouvoirs exécutifs et judiciaires. Ces deux êtres au rang supérieur ont droit de vie et de mort sur chacun des membres de la communauté.
Meridaâ-Maharoria est devenue oficiellement Fille-Reine régente à la mort de sa mère, quelques années plus tôt.
C'est une jeune femme posée, réfléchie, réputée pour la clairvoyance de son jugement et son inflexible incorruptibilité. Respectée de tous, elle ne dévoile que très rarement ses pensées profondes et ses émotions et s'efforce d'être toute entière pour son peuple le pilier fier, puissant et inébranlable qu'exige sa fonction. À force, son beau visage s'est durci.
Meridaâ-Maharoria est veuve et mère de deux petites filles. Meridaâ-Olymph-Hloé-Raâ et Meridaâ-Yezaâmire-Paé. L'aînée, vouée à prendre sa succession, est une enfant appliquée et secrète, à l'intelligence hors du commun mais, comme sa mère, particulièrement difficile à approcher. Tandis que la seconde, Meridaâ-Yezaâmire-Paé est fière, susceptible et n'a de cesse de se quereller avec les autres enfants de la tribu. L'année de son 15ème anniversaire, sacrée meilleure double-sabreuse de la tribu, elle sera invitée à rejoindre la prestigieuse Garde et finira par épouser Hycliad-Osc-Goöl après l'avoir drogué et violé une nuit de pleine lune...
La souveraineté de Meridaâ-Maharoria est symbolisée par une relique ancestrale, un collier plastron sculpté autour d'un joyau rare appelé « le Coeur de l'Oiseau-Vie » et refermant l'esprit et le pouvoir du Dieu-Animal immortel et fécond Meyiaâ. Le talisman avait jadis appartenu à la 1ère Fille-Reine et se transmet depuis à chaque nouvelle intronisation. Il porte le nom de la prestigieuse lignée féminine.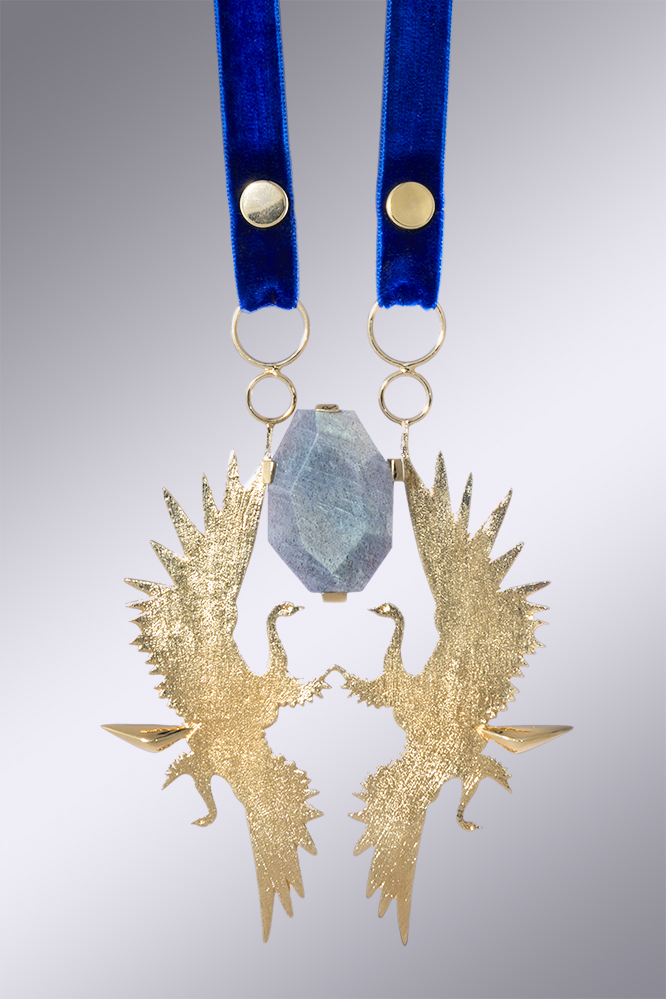 Meridaâ Necklace "The Heart of Life-Bird"